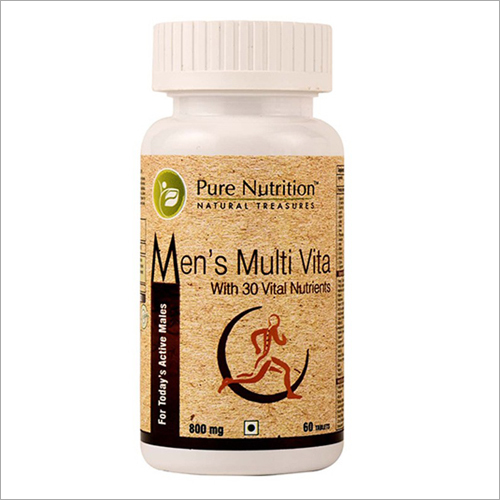 Men Multi Vita Tablets
Product Code : 13
999.00 INR
Price And Quantity
Price

:

999.00 INR
Product Specifications
Ingredients

:

Vitamins – Vitamins A, C, D, E, and B complex are vital for various bodily functions, while antioxidant vitamins like C and E also help in protecting against free radical damage. Minerals – Minerals like iron, magnesium, zinc, chromium, manganese, and selenium help maintain healthy heart and brain function. They may also help promote muscle growth. Ginkgo Biloba – This herbal ingredient may enhance blood flow to the brain, boosting cognitive function and lowering the risk of degenerative diseases like Alzheimer's.
Function

:

Increase Immunity
Dosage

:

1 tablet daily after meals
Dosage Guidelines

:

After Food, With Water
Product Description
Men's Multi Vita contains all of the essential vitamins and minerals for health, as well as a variety of antioxidants, Omega-3s, and herbal extracts that promote better health. Men's Multi Vita can help enhance athletic performance and increase strength, as it also contains amino acids and herbs that enhance nutrient delivery to muscles.
Benefits
● May promote muscle growth and helps build endurance
● May help in boosting libido and virility levels with the action of herbs
Contact Us
408, Embassy Centre, 4th Floor, Nariman Point, Mumbai, Maharashtra, 400021, India
Phone :+917042409776