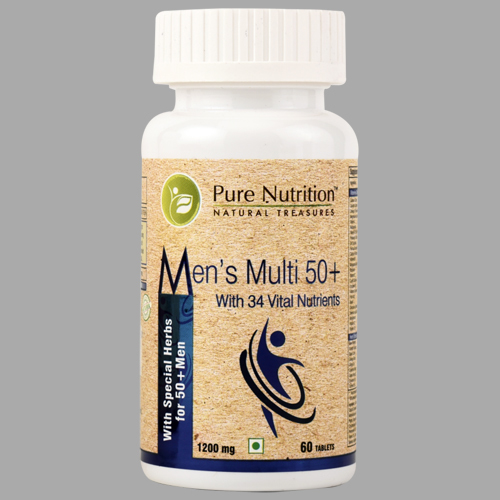 Men Multi Vita 50 Plus Tablets
Product Code : 17
999.00 INR
Price And Quantity
Price

:

999.00 INR
Product Specifications
Shelf Life

:

2 Years
Ingredients

:

Vitamins – Vitamins A, B, C, D, and E are essential for complete health, with B vitamins like vitamin B6 and B12, folic acid, thiamine and niacin playing an important role in energy metabolism. Minerals – Minerals like iron, magnesium, calcium, zinc, manganese, and selenium are important for various physiological processes, helping protect the heart and bones, while also boosting immunity. Korean Ginseng - This ingredient is said to help in a variety of sexual dysfunctions in men, and it also helps regulate metabolism, as well as blood sugar and cholesterol levels.
Function

:

Increase Immunity
Dosage

:

1 tablet daily after meals
Dosage Guidelines

:

With Water
Product Description
The ideal supplement for men approaching or past their 50s, Men's Multi 50+ contains a variety of vitamins and minerals, as well as herbal extracts, meant to preserve vitality and strength in men, while lowering the risk of degenerative conditions like osteoporosis, Alzheimer's, prostate problems, and atherosclerosis.
Benefits
Vitamin D and calcium help in the maintenance of bone health
Protects against degenerative brain damage with antioxidant power
Promotes nail, skin, and hair health with biotin and omega-3 content
Contact Us
408, Embassy Centre, 4th Floor, Nariman Point, Mumbai, Maharashtra, 400021, India
Phone :+917042409776