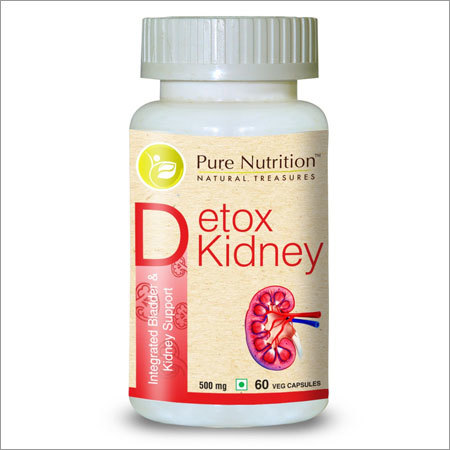 Detox Kidney - ( Integrated Bladder & Kidney Support )
Product Code : 07
2,499.00 INR
Price And Quantity
Price

:

2,499.00 INR
Product Specifications
Shelf Life

:

2 Years
Ingredients

:

Kidney Detox Blend Ingredients : Boerhavia Diffusa,Tribulus Terrestris, Zingiber Officinale, Turmeric Extract, Shilajit Extract, Milk, Thistle Extract, Pumpkinseed extract, flaxseedpowder, resveratrol, Pepper Extract
Function

:

Cure Liver
Dosage

:

1 or 2 Capsules twice a day before Meal
Dosage Guidelines

:

Before Food, With Water
Product Description
High blood pressure, elevated blood sugar, NSAIDs, certain medications, and high-protein diets are some the most common threats kidney health. This could lead to oxidative stress, production of advanced glycation and lipoxidation end-products (AGE's and ALE's), inflammation, and an excessive filtration burden that taxes renal function over a period of time.
Detox Kidney is a herbal formula designed for people who are at risk of or suffer from kidney disorders. With herbs like boerhavia diffusa and tribulus terrestris, Detox Kidney prevents nucleation and growth of the calcium oxalate crystals in the kidneys and also helps in lowering urea levels (reducing the risk of UTIs). Studies also show that these ingredients also help regulate blood sugar levels.
Nutrients such as pyridoxal-5-phosphate (P5P) fight AGE's and ALE's. CoQ10, silymarin, resveratrol and lipoic acid are clinically supported for potent interventions. Omega-3 fatty acids may help quell inflammation, contributing to enhanced kidney health. A host of additional nutrients and herbal actives including Boerhavia Diffusa, Tribulus Terrestris shilajit etc., complement Detox Kidney support.
Contact Us
408, Embassy Centre, 4th Floor, Nariman Point, Mumbai, Maharashtra, 400021, India
Phone :+917042409776